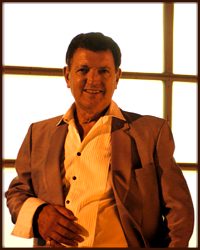 STAGES OF MY LIFE

In 2008 Melissa persuaded me to write an hour-long show and submit it for the Edinburgh Festival Fringe in August. She had enjoyed sellout success there with her show 'Ella, Marlene, Marilyn & Me' - quite a rare thing at the Fringe.

It was duly presented as a world premier in a brand new theatre right next door to where Melissa was performing her show!

The show 'Stages of My Life' is my musical life-story, featuring songs I have written and show-stopping songs from stage musicals I have starred in. It ran from 7 - 17 August 2008 at The Vault Annexe Theatre, Merchant St, Edinburgh.

Although it is very difficult for newcomers to the Fringe to get full houses, I enjoyed the experience and the very positive reviews I received.

Brisbane Jazz Club

On returning to Australia in September 2008 I was invited to join the Committee of the Brisbane Jazz Club. At about the same time I was also invited to become manager and presenter of the Brisbane Big Band along with Brad Esbensen as the newly appointed MD.

Between us we have managed to bring this 35 year-old band up to the minute with some new charts, rehearsals and guest artistes. This has created a livelier and more vibrant image so we look forward to a much brighter future for the band.

Apart from my regular stints at the BJC with the band I also had the pleasure of hosting the Club's series of monthly Jazz Appreciation evenings. These evenings gave our audience the opportunity to find out about the people behind the music and the microphones - what makes musicians and jazz artistes tick?

I had the pleasure of introducing and interviewing many of the prominent Brisbane jazz musicians and artistes in a relaxed and fairly informal style and allowing the audience to ask questions of their own during the interview.

Such has been the success of these sessions that the Club has now decided to record some of them for posterity and may produce a compilation of them on CD in due course.

My band - Alan Western and the Jazz Gang 'the swingingest band in town' is also featured on various dates throughout the year at the BJC. We recently played a one hour concert at City Hall - 'the Jazz Gang Play the Pop Hits' - and found ourselves really enjoying playing some Elvis, Tom Jones and Beatles numbers.
SHOWS